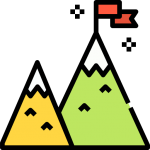 #Hike4TheAfricanchild is a charity cause, an initiative by Child Online Africa (COA) to spark up the discussion and support for Safety and well-Being of children in Africa. It was started to have the Executive Director of the organization embark on the expedition to the only free standing mountain in the world thus Kilimanjaro in Tanzania.
Child Online Africa formally called J Initiative is a child focused research and advocacy based non-governmental organization that campaigns for/with children and young people and their families to influence policies and change practices that affect child safety, protection and well-Being in Ghana and Africa.
The information society has made digital communication and information flow a vital part of everyday life, although access to the Internet and digital technologies varies around the globe. This notwithstanding, the space presents its own opportunities and risks to everyone who engage on it making children more vulnerable.
"I have decided to make a personal sacrifice for the child in Africa to have the best of life on the Internet. Children and young people in Africa will contribute to the attainment of Sustainable Development Goals 4 and 5 but this contribution from children and young people will be meaningless if the right Provision is left only at the signature status. If the digital space presents risks to us as adults, it is important we bear in mind that the risk is a lot higher when it comes to children. I agree the information society presents a new challenge for child welfare but we cannot give up on what to do to keep children and young people safe in this new environment". Awo Aidam Amenyah – Executive Director of Child Online Africa (COA).
Children and young people are faced with abuse, exploitation, trafficking and their rights violated online daily. Each we read about an abuse of the child it gets me to interrogate the three P's of children's rights and COA's conclusion is that we do not seem to be doing well for the African child in terms of the PROVISION, PROTECTION and PARTICIPATION.As an advocates for Digital Rights protection, we hold the view that the African child should be empowered enough to spot danger, understand what action to take to safeguard himself/herself online and how s/he can support others to stay safe.
Hike4TheChildOnline is being embarked upon by the Executive Director and COA intends to have a hike annually to raise support for Child Protection in the digital space. The goals for #Hike4TheChildOnline are the following:
We would love to follow us on social media, send us emails, so you always know what is happening with #Hike4TheChildOnline project and other programmes at COA.
In addition we would be honoured to have your financial support. We cannot accomplish our goals alone. We need committed individuals and companies who will stand with us and support the work of Child Online Africa around the continent.
Finally, let us join hands to make this charity cause a reality and to also remind all stakeholders that children deserve protection and provision.